We're on the verge of another new year so, let's make it your best one ever!
Contest closed extended to Tuesday, Jan. 9, 2018. Winners will be contacted Jan. 15 and 16. Thanks for entering!
ONE Get Fit has partnered with our friends at Raincoast Books to put together 10 prize packages stacked with inspiring travel ideas, healthy cooking and lifestyle tips and a few seasonal treats too.
All you have to do for your chance to win is fill out and submit the entry form below.
Here's to you and your health and happiness for a beautiful new year!
Take a peek at ONE Get Fit TV's amazing line up of healthy lifestyle programming and change the channel to the channel that changes you in 2018.
Sign up for our ONE newsletter and get Beauty from the Inside Out in your inbox.
EACH PRIZE PACKAGE INCLUDES
___________________________
The World: A Travellers Guide to the Planet by Lonely Planet
Every country in the world, in one guidebook: Lonely Planet's The World. A Traveller's Guide to the Planet.
We've taken the highlights from the world's best guidebooks and put them together into one 900+ page whopper to create the ultimate guide to Earth. This user-friendly A-Z gives a flavour of each country in the world, including a map, travel highlights, info on where to go and how to get around, as well as some quirkier details to bring each place to life. In Lonely Planet's trademark bluespine format, this is the ultimate planning resource. More…

Fat for Fuel Ketogenic Cookbook by Joseph Mercola and Pete Evans
Food is medicine. Hippocrates himself, 16 centuries ago, understood this essential truth about healing. Today, natural-health expert Dr. Joseph Mercola and superstar Australian chef Pete Evans share the firm belief that food can be a powerful tool to reshape our health. In this new volume-a companion to Dr. Mercola's best-selling Fat for Fuel -they've joined forces to put this tool in your hands. More…

The How Not to Die Cookbook by Michael Greger and Gene Stone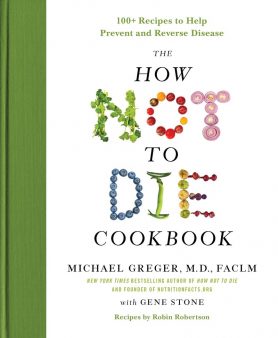 From Michael Greger, M.D., FACLM, the physician behind the trusted and wildly popular website Nutritionfacts.org, and author of the New York Times bestselling book How Not to Die, comes a beautifully-designed, comprehensive cookbook complete with more than 120 recipes for delicious, life-saving, plant-based meals, snacks, and beverages.
Dr. Michael Greger's bestselling book, How Not to Die, presented the scientific evidence behind the only diet that can prevent and reverse many of the causes of premature death and disability. Now, The How Not to Die Cookbook puts that science into action. From Superfood Breakfast Bites to Spaghetti Squash Puttanesca to Two-Berry Pie with Pecan-Sunflower Crust, every recipe in The How Not to Die Cookbook offers a delectable, easy-to-prepare, plant-based dish to help anyone eat their way to better health. More…

Super Carb Diet: The 90 Day Life Changing Plan by Bob Harper and Danny Pellegrino
How do you prevent those constant food cravings and feelings of deprivation when trying to lose weight? Host of The Biggest Loser and celebrity trainer Bob Harper's Super Carb Diet is the answer. Harper focuses on nutrient-dense foods that are big in flavor and allow certain kinds of carbohydrates at targeted times during the day.
The Super Carb Diet will keep millions of dieters from giving up after Week One. The program leads you through precise plate proportions, balancing good protein, low fat, high fiber, and nutrient density. Not only will you lose significant weight and whittle your waistline, you'll walk away from the table feeling happy and full. More…

Betty Crocker Christmas Cookbook by Betty Crocker
Christmas brings out the cook in everyone, whether you are making appetizers and drinks for casual entertaining, a show-stopper meal for family, food gifts for friends, or special cakes and desserts that only come out once a year. In this delightful seasonal cookbook, Betty Crocker combines comforting tradition with new ideas-from simple Sugar Cookies and Roast Turkey with Thyme to Roasted Brined Duck with Chipotle Glaze and Holiday Aloo Gobi.
In addition, there are helpful make-ahead tips and special features to add to your holiday cheer. Learn how to set up a home bar and make an Elf-Tini, how to host a fondue party, fun ways to wrap and give cookies, how to create new Christmas traditions, and more. This enticing compendium will be a go-to cookbook year after year, proving that while Christmas is busy, it can also be delicious fun. More…
Get social with Raincoast Books:
---
Contest closed January 9, 2018.
One entry per day per valid email address.
Must be 19 years or older to enter. Contest not open to residents of Québec.
---